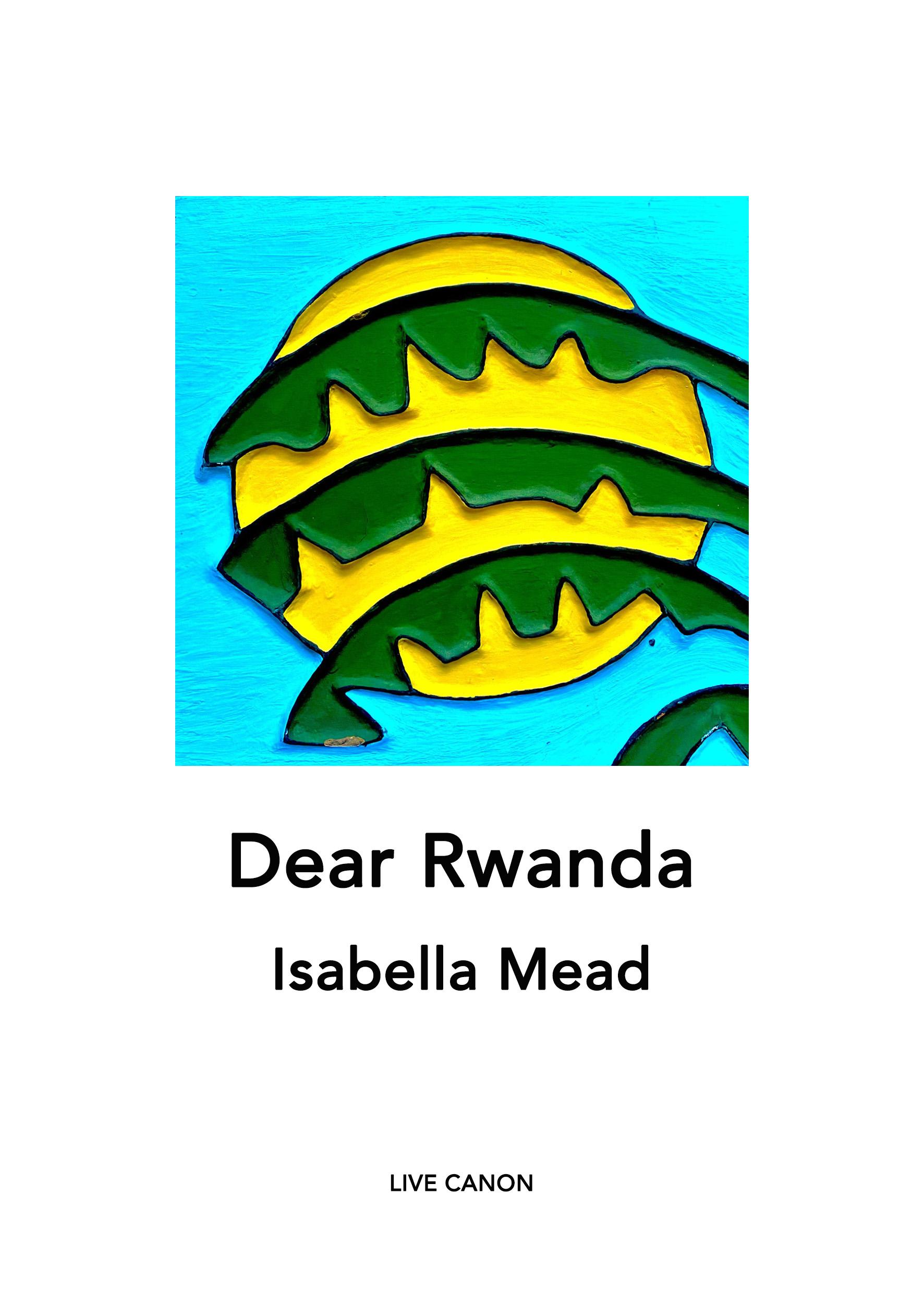 Dear Rwanda, Isabella Mead
£7.00
The debut pamphlet from Isabella Mead.

'Amen to Isabella Mead for the line 'Meanwhile fatherless men at the bar / practise a dancestep to the latest soundtrack/ and praise cows under the moon.' This in a poem where strife-torn Rwanda is a barely spoken backdrop, and where 'women shelling beans at twilight/ never name their silenced virus.' It's the news; not the way we'll hear it told by Jon Snow or Sophie Raworth, but no less essential. ' Simon Armitage

'These poems capture, in humane detail, individual lives at the time of the Rwandan civil war. Twilight serves as a searing overarching metaphor for a country on the brink of genocide. Yet resilience, forgiveness and playfulness triumph. A brave debut.' Patience Agbabi

'In these careful, intimate poems inhabiting the aftermath of genocide, Isabella Mead observes people 'disassembling the dark'. The way forward is far from simple – slowly built bridges can 'soften at the slightest coaxing of termites or rain.' Mead is alert, too, to the limits of an outsider's perceptions. Despite this, in her resonant poems the reader finds time and again clear-eyed encounters with resilient compassion and a deeply rooted commitment to nurturing the communal. Inside the shadow of mass violence, 'apertures of light' persist in everyday places. This is profound, invigorating writing.' John McCullough

'Isabella Mead's poems travel both widely and deeply, they are open-eyed, open-eared and open-hearted, deft journalistic postcards full of experience and wry intelligence that still leave plenty of room for the reader. Dear Rwanda is a fantastic announcement of talent.' Will Burns

Isabella Mead grew up in Cambridge and holds a Master's in History of Art from the University of York. A former secondary English teacher in East London, she lived and worked for two years from 2010 to 2012 in a rural area of Rwanda with Voluntary Service Overseas, an experience which profoundly informs her writing. She lives in Bristol with her partner and her cat, and is studying for a second BA degree in French, Italian and Spanish. Isabella is Head of Learning and Participation at The Story Museum in Oxford, through which she leads a vibrant team of storytellers and creative writing tutors. She is also a Trustee of Jane Austen House and a Poetry Ambassador at Keats' House.